Lehrstellen-Messe
Lehrausbildungsmesse zeigt Jugendlichen die Vielfalt bei Lehrberufen auf
This fair shows young people the diversity of available apprenticeship occupations.
Once again this year, the Chamber of Commerce and Kufstein's location marketing department, together with their partners, are organising the apprenticeship fair in the Kufstein Galleries and Inntalcenter. The aim is to bring together young people and apprenticeship companies from the region.

Das war das Berufs-Festival PLUS 2020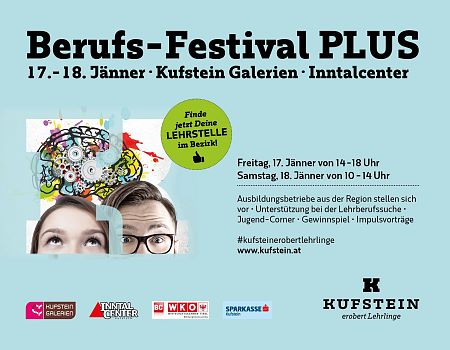 From January 22 to 23, the PLUS professional trade fair took place in the Kufstein Galleries. The fair offers regional companies that offer apprenticeship training the opportunity to present themselves to young people at a variety of stands. This aims to enable young people and their parents to establish valuable contacts with local companies and to obtain information about the wide range of apprenticeship offers in and around Kufstein. Thomas Ebner, Managing Director of Kufstein's location marketing department, explains the reasons for this trade fair: "All companies that have a stand are currently looking for apprentices. This means that the fair can be extremely useful for young people looking for an apprenticeship. Last year, many young people took advantage of the opportunity to obtain information at this fair, and in some cases made a connection that successfully led to an apprenticeship position. This proves that the concept of the apprenticeship fair is a successful one and we once again expecting many successful contacts this year.
In addition to the stands run by exciting companies, there will be an information arena with presentations about job applications and training, as well as a youth corner where attendees can find out about youth offers in the city of Kufstein. Once again this year, attractive prizes will also be offered in a competition.