How others write history
Examples of work and communication of history in a lecture series
Working with history and memory, then communicating findings is both rewarding and at the same time very demanding. To help you learn about good ideas and projects, and to become aware of the pitfalls, external experts are invited to report on their examples and experiences as well as to answer questions.
3rd date on 16.10.2020
Robert Gander: Exhibiting memories – showing history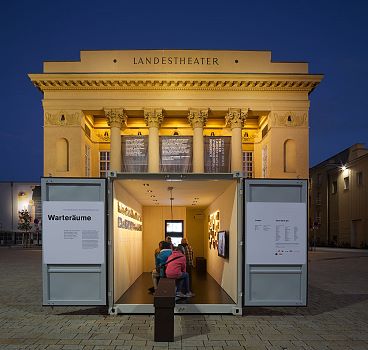 Exhibitions show "things," but how can stories be told in exhibitions for which things have not (yet) been collected? Using concrete examples, Robert Gander presents methods of bringing remembered history and personal experience to (public) spaces. The potential to create awareness and enable encounters also creates risks when private memories become public. In the discussion that follows, the main focus will be on identifying opportunities and stumbling blocks that can arise during project development when dealing with memory media and participants.

Robert Gander studied art history and media design. He is a co-partner of the exhibition and museum consultancy office Rath & Winkler in Innsbruck, working on the development of ideas and accompanying consultation up to the overall conception and curatorial realisation of exhibitions. The office also organises discussion events, conferences and participation projects for a variety of target groups, draws up usage concepts, feasibility studies and catalogues of measures for museums and exhibition organisers, and provides advice on structuring of the organisation. www.rath-winkler.at

2nd date on 03.10.2019
teatro caprile: Local history as location theatre
Based on eyewitness accounts, documents, newspaper articles and literary texts, teatro caprile brings historical events or personalities to life in theatrical, often also dance-like performances. Most recently they appeared in the Vorarlberg museum acting out scenes from the life of the Bregenz painter Rudolf Wacker (1893-1939). They are also currently performing one-day theatre shows at the original locations of events: In Krimml (Salzburg) from 21 to 30 June 2019 they are re-enacting the illegal relocation of Jewish displaced persons to South Tyrol in 1947. From 12 July to 1 September 2019 they will be in Montafon (Vorarlberg) with a performance about attempted escapes to Switzerland in 1938. The figures portrayed and the audience both traversing the high alpine landscape; physical exertion and the confrontation with wind and weather create an emotional participation in the events that can never be achieved in a darkened auditorium.
Katharina Grabher and Andreas Kosek will talk about their handling of historical sources, as well as successful and failed projects. Questions and discussions are encourages after the presentation.
Teatro caprile has been committed to innovative theatre formats and unusual texts for 26 years. Productions that explore and creatively incorporate the theatrical possibilities of spaces or landscapes have received particular attention both in Germany and abroad. They were the winner of the main prize for Vorarlberg tourism innovation in 2016. "caprile," the Rhaeto-Romanic word for goat pen, signals their interest in themes, literature and places that are away from the mainstream and also alludes to the financial and infrastructural situation of independent theatre groups.
Further and current dates at www.teatro-caprile.at

1st date on 23.05.2019
Edith Hessenberger: Telling stories about life. The potential of oral history projects
The life story interview allows insights into memories and the perception of history in a way that is unparalleled by other techniques. In her presentation, Edith Hessenberger will talk about what needs to be considered, where possible dangers lie, but also where there are the greatest opportunities. The interviewing technique will be presented on the basis of concrete projects and interview examples, and there will be an opportunity for discussion after the presentation.
Edith Hessenberger has a doctorate in ethnology and geography. Since 2018, she has been director of the Ötztal Museums, and is also active as a freelance cultural scientist. Her academic focus is on narrative research and oral history, the history of Alpine mountain farming, the history of tourism and alpinism, and migration research.